Beach front villa with panoramic views of the ocean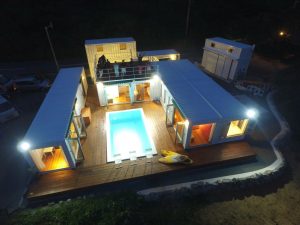 We are a family run accommodation right on the beach, offering pristine views of the Pacific.
Our villa, built in 2016 offers beach and ocean access, a sun terrace, private swimming pool and Hawaiian style lanai rooms.
We offer Stand up paddle boarding (SUP) and surf lessons in both Japanese and English around the island for any level, from those wanting to try for the first time to being shown the island's best breaks.
We also serve American style burgers and snacks all day from the Kazbo kitchen.
Feel free to contact us via phone: 090-2662-0783 or email kaponoyoko@gmail.com